11 Day Treasures of the Egyptian Nile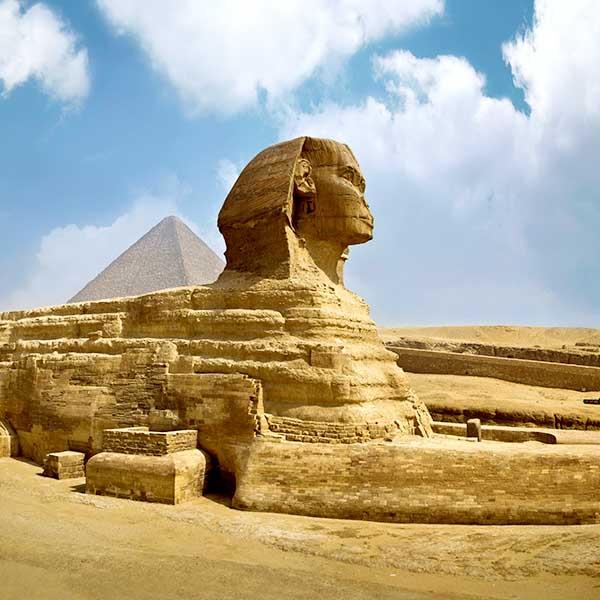 Booking Dates
07/25/2018 through 12/18/2019
Travel Dates
05/12/2017 through 12/31/2019
Provider
Kensington Tours
11 Day Treasures of the Egyptian Nile
One of humankind's most advanced, enduring, and mysterious early civilizations, ancient Egypt fascinates modern scholars all the more with each new artifact its archaeological sites yield. So much is known about the pharaohs who ruled the banks of the Nile, and yet there is still so much more to learn. Join us on this exclusive Explorers Club Collection journey that takes you deep into the heart of the ancient kingdom's monuments, tombs, and museums and walk in the dusty footsteps of history, as scholars, Egyptologists, and expert guides separate fable from fact.
We begin in two Egyptian capitals: modern Cairo and nearby Memphis, the center of the ancient world, where you'll embark on a full-day private tour of the area's many archaeological sites, including the necropolises of Sakara, the reconstructed Khufu ship, the Great Pyramid at Giza, and the mysterious Sphinx. Next, head south to Minya and spend two full days exploring the ruins, catacombs, and rock-cut tombs of Tell el-Amarna, the city Akhetaton founded after he abandoned the god Amon. Returning to Cairo, your next stop is Luxor and the Nile's West Bank, where you'll venture into the Valley of the Kings to tour three famed tombs – including Tutankhamun's – before visiting the temple of Hatshepsut, the Colossi of Memnon, and the tomb of Nefertari, one of Luxor's most beautiful and best-preserved sites. Later, walk the Avenue of the Sphinx and explore the massive temples of Karnak and Luxor on the Nile's East Bank on a private half-day expedition led by an Egyptologist guide. In Aswan, you'll visit the Temple of Horus, the falcon god whose eyes were the sun and moon, before moving on to stunning Abu Simbel, the onetime southern edge of dynastic Egypt. Here, you'll dedicate two days touring the grounds of this incredible monument to Ramses II, including a guided safari and a private cruise on Lake Nasser before returning again to Cairo for a full-day private tour of the Egyptian Museum, where a skilled Egyptologist will introduce you to incredibly well-preserved mummies, the priceless treasures of Tutankhamun, and other artifacts.
The Explorers Club Collection by Kensington Tours is an exclusive suite of travel experiences inspired by the expeditions of the world's foremost society of scientists and adventurers. Each tailor-made Explorers Club trip connects you to the world's most fascinating people, places, and experiences with expert local guides and award-winning 24/7 service support. On-trip experts and experiences are subject to change depending on availability.
Itinerary
Destination
Pricing
Terms and Conditions
| Day | Description | View All |
| --- | --- | --- |
| Day 1 | Cairo | Details |
| Day 2 | Cairo | Details |
| Day 3 | Cairo To Minya | Details |
| Day 4 | Minya To Cairo | Details |
| Day 5 | Cairo To Luxor | Details |
| Day 6 | Luxor | Details |
| Day 7 | Luxor To Aswan | Details |
| Day 8 | Aswan To Abu Simbel | Details |
| Day 9 | Abu Simbel To Cairo | Details |
| Day 10 | Cairo | Details |
| Day 11 | Cairo | Details |